Notion trading journal
Let's see about trading journal and how you can use Notion to keep track of your trades and do better in trading.
Whether you're new to trading or have done it for a while, it's important to write down what you do and learn. Notion can help you do this well.
We'll show you why using Notion r your trading journal is smart and give you tips to use it in a way that helps you understand your trading. Let's begin!
What is Notion ?
Notion is a note-taking software that can be used for both professional and personal purposes. It is available as a desktop app for PC (Windows and MacOS), a mobile app, and web.
This note taking app has all the following features for FREE :
Database management
Kanban board
Lists
Notes by gallery
Timeline view
Unlimited nested tasks and pages
Interlinking
Extetnal linking and embeds
Custom templates etc.
What is a trading journal?
A trading journal is a notebook or diary in which you track and journal all of your trades and related information so that you can refer to it later and learn from your previous trades.
Advantages of Notion over other apps
The most significant advantage is that it includes all of the essential features in its app.
Some of them are …
Database management
Unlimited nested pages for notes
Text formatting
Kanban for projects
Calendars for scheduling
Share to team members or public
Different types of blocks for different note types
Saving web content as bookmarks
Embeds to integrate with other apps
Custom and gallery of templates for repeated tasks etc.
Free for personal use
No storage limit
Drag and drop
Browser, mac, windows, app.
Disadvantages of Notion Trading Journal
As of September 2022, Notion does not support the creation of recurring tasks.
*Update on November 2022 – Recurring template is now available in Notion!
Notion basic organization
All content within Notion is structured into pages. It's possible to generate nested pages, form a structured hierarchy, and establish well-organized folders.
Each page has plenty of block types like :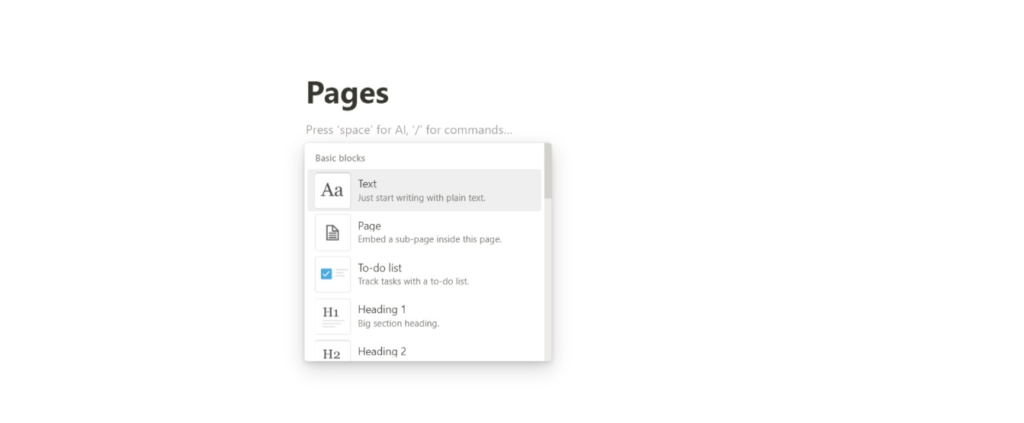 Basic blocks include common blocks like text, page, lists, headings, table, link to page etc.
Media blocks include image, video audio etc.
Database blocks include different views of a database like table, board, gallery etc.
and more advanced blocks, embeds and synced databases..
Each database includes properties like AI tools, text, number, select, multi-select, status, date, URL etc.
How to use Notion for trading?
Notion has a wide range of applications.
The most important is to keep a trading journal. You can use any block type to create a trading journal in Notion. I prefer the database option because it is simple to sort and filter and is well-organised.
On any page, click the plus sign.
It will display a list of options.
Choose the 'table view' option (Not the option 'table.'), either as an inline block or as a page. This is the database we will be using to track our trading performance.
Now that you have the database, you can name it and add as many rows and columns as you want.
Columns are properties like date, text, files, multi select etc.
Rows are like entries. Each entry has a seperate page when you click on it's title. You can also see all the properties of the page.
You can track all the tiny details of a trading journal or just the ones you think is not repetitive and is worth learning from.
What to track?
Column is where we need to focus on. You can create properties for your trading journal like the following…
*Tip: Multi-select and number properties work best for a trading journal.
Assets
Types of assets
This is used to find which asset is more suitable and profitable for you. You can use multi-select property to track asset and asset names.
Eg 1. Asset = Forex / stocks / options / crypto etc.
Asset name
Specify the name of the asset.
This is very specific so that you can find your best profitable pair or stock.
Eg 2. Asset Name = Eur Usd / Banknifty options / Ethereum …
Entries & Exits
Date & Time :
You can use it for entry and exit prices and/or entry dates.
You can use the date option to manually select the date or select created / last modified date and time.
You can also select a date range in the date option. This will be useful for swing traders, or investors who would want to track the number of days you have been holding on to a stock.
The time used to find out which time of the day the particular stock is trending.
And the date is used to track which market information the stock is reacting to or other relevant details.
Eg. Entry – Aug 1 2022 10:00 AM – Aug 1 2022 10:15 AM.
Price :
Use the number option to note down your entry and exit price.
Eg. Entry price – 337
Exit price – 400
You can also add additional properties for stop loss & target plan, trailing stop loss etc. You can use the formula option to automatically calculate the value based on other details entered in the database.
Profit / Loss
Here you can enter profit and loss details in your currency, so that you can add up all the trades at the end of the month. Or you can use just PROFIT or LOSS. The formula property is the most used one here..
Eg 1. P/L = Loss
Eg 2. Profit = 123 $
Loss = 0
Reasons
What was wrong? – Just note down all the possible mistakes during a losing trade, so that later you can find a pattern and correct your mistakes. Use multi-select property here so that you can filter and sort by this property to track your mistakes later.
Eg 1. Fear
Eg 2. Not sure of the strategy
Eg.3 Over trading
Eg 4. Late entry etc.
What was right? – This is done in order to repeat the same strategy which was profitable. Multi-select property is used here.
Eg 1. I maintained 1:1.5 Risk reward ratio which gave me profits.
Eg 2. I can profit easily on a Trending day with my strategy.
Eg 3. I was patient and did not move my stop loss.
Strategy – Assign a name to your strategy in multi-select option and use it everytime you use the same strategy, so that you can later find which strategy works for you.
You can write the detailed strategy in the note section.
Eg 1. Market structure breakout pullback strategy or MSBP
Eg 2. 20, 50 Ema + stochastics.
Money management
You can enter the following in number or formula property to track the following :
Quantity : Total quantity, Number of shares bought, number of shares sold etc.
Capital : Invested amount for trading or investment.
% P/L : You can calculate the percentage of profit or loss made on capital deployed.
* You can use the calculate button at the end of each property to calculate the sum or average of properties like capital, %P/L, profit and loss etc.
Other
Notes – You can choose the text option here and write any other details you want to track and refer later.
Images – You can select the files & media option. Take screenshots of your trades, chart setups, profit and loss etc.
There are so many other options and details to be tracked. But to keep it simple and clutter-free, this simple database trading journal works wonders to correct your mistakes and to become a consistently profitable trader.
To see all the options and details you can track, check out my 'track with me' notion trading journal.
Check out this video to learn how to setup Notion for trading.
Notion trading journal template
You can find templates in the above video. Or find 'track with me' notion trading journal database here..
FAQs
What's a Notion trading journal?
A Notion trading journal is like your digital trading diary. It's a special tool in the Notion app that helps you keep track of all your trading moves and decisions.
Why would I bother with it?
Think of it as your secret weapon for becoming a better trader. With this journal, you can look back at your past trades, see where you went right or wrong, and figure out how to be even smarter next time.
So, how do I actually make one?
Well, you start by opening Notion. Then you create something called a "database" – that's like a neat box to hold all your trading info. You'll add stuff like the date you made a trade, what you bought or sold, and when you got in or out.
Can I make it look cool?
Absolutely! You're the boss of your journal. You can change how it looks, put in different sections, and even give it some fancy colors if you're into that.
Is Notion easy peasy to use?
It's not too hard, but it might take a little practice at first. There are tutorials online that can walk you through the steps.
What if I have different trading tricks up my sleeve?
No worries! Notion's got your back. You can make separate parts in your journal for all your different trading strategies.
How do I see what I did?
Easy. You can sort and filter your trades in Notion. Want to see all your winning trades in one go? No problem. Just a couple of clicks, and you're there.
Is my secret trading info safe?
Notion tries its best to keep things safe, but don't spill any super-secret info like your account numbers. Safety first!
Can I check my journal on my phone too?
Definitely! Notion plays nice with different gadgets, so you can peek at your journal whether you're on your computer, phone, or tablet.
Any other apps like this?
Sure thing. There are other apps like Evernote or Excel that can work as trading journals. But lots of traders really dig Notion because it's so flexible.
Are notion pages private?
Yes. Notion pages are private by default. But you can also share it with others and make it public.
About Post Author
Resources & Links
Tradingview – Charting Platform
Zerodha – Trading brokerage platform (India)
Disclaimer
Trading involves substantial risk, and past performance is not indicative of future results. Always conduct your own research and consider seeking professional advice before making any investment decisions. The information provided on this platform about digital entrepreneurship is based on the author's experiences and industry knowledge. It should not be considered as financial, legal, or business advice. Please consult with experts in these fields before making business decisions. This blog may contain affiliate links, and we may earn a commission if you make a purchase through these links. Your support is appreciated.