One of the free ways to make money online is by creating a youtube channel on the topic you love.
No face and no voice? Earn by doing what you love? Seems like a fantasy, right!
Who would have thought that this would be possible, a few years ago?!
You just need to find your audience and provide value to them.
And you don't have to be an expert at what you do. You can even share your journey and the lessons learned on the way.
Also, the youtube algorithm makes it easy for people to reach millions of users in a short period of time, no matter how popular or not in your real life.
Just learn the algorithm and you are good to go!
Once you reach 1000 subscribers and 4000 watch hours, your channel becomes eligible to be monetized with ads.
YouTube then shows ads in your videos according to your audience interests. You earn everytime someone clicks on the ad.
By the way, you don't even have to rely on youtube partner program to make money online.
You can try affiliate marketing where you can refer products that you believe in, to your audience. If they buy from the link, you get your commissions.
There are numerous ways you can make a living from youtube.
Just gain some traffic, provide value and build trust. You can even become rich by doing this as your business.
Now, let's see how to create a youtube channel, the easy way.
That's great! But how do I get started?
1.The first step is to pick your niche.
There are so many categories out there.. You can choose any topic you are interested in and can do it for the long term…
Health
Finance
Family
Career etc
Then go further down..
If you are into health, you can go down to diet. Then go further down and choose a niche like
'Diet for patients with diabetes as well as kidney disease'
'Fitness for lazy people' etc
2.Then create your youtube channel.
To create a channel in mobile :
Go to the top icon at the right corner of your youtube mobile app.
Click on 'your channel'.
Enter your channel display name and hit create.
Viola! You are done.
Now you can add a long video, shorts, or even go live through any free software.
You can also click edit channel and change your display name and add a description.
These are the basic steps to start a youtube channel. We will discuss more features in upcoming posts.
Now, start adding your videos and promote them like crazy. Keep grinding it.
3.Do SEO !
In few months, you would have already made few bucks from your channel!
I need to know everything about the youtube business! I also don't want to show my face?! What can I do?
You can start with a free course that everyone gives away for free.
Or you could just go for more authenticated experts who have already established themselves in the business.
I know this guy from youtube. He's really amazing at this age. Watch it yourself.
Now, if you want to get the detailed course, click below for access.
Tubemastery course to create a faceless and voiceless youtube channel and monetize it!!
How much do youtubers make?
There is really no limit to how much you can earn on youtube!
It all comes down to the clicks you get on your channel. Whether it is ads with youtube partner program or affiliate programs, traffic matters. The more views and clicks you get, the more you can earn on youtube.
You can check the approximate earnings of any youtube channel with this website called Social blade.
You can see few examples here..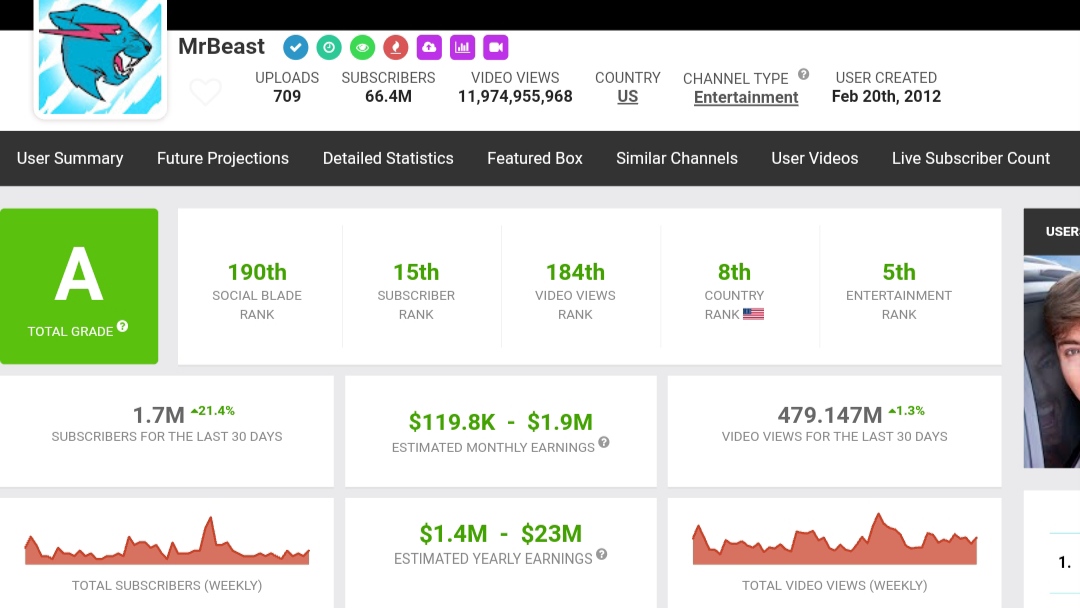 Did you just see how much channels Brightside and Mr.Beast earn? Amazing, right?!
You can check the data with this website
Cool! What next…?
If you would like to know more about making money online with your passion, check out my youtube channel Passion to Income Ramya. I will be creating a niche site on that soon!
So, till then HAPPY LIFEHACKING!
About Post Author
Resources & Links
Tradingview – Charting Platform
Zerodha – Trading brokerage platform (India)
Disclaimer
Trading involves substantial risk, and past performance is not indicative of future results. Always conduct your own research and consider seeking professional advice before making any investment decisions. The information provided on this platform about digital entrepreneurship is based on the author's experiences and industry knowledge. It should not be considered as financial, legal, or business advice. Please consult with experts in these fields before making business decisions. This blog may contain affiliate links, and we may earn a commission if you make a purchase through these links. Your support is appreciated.